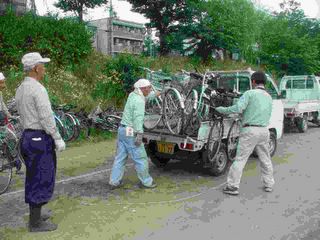 Kyoto Government workers removing bicycles from the area (see the picture above)in which about 500 bicycle commuters were parking until September 2004 when it was barricaded off with scaffolding with any bicycles that remained being impounded.
This was the second major attack on an area established informally by cyclists who need to park near the Demachi-Yanagi transport hub.
The cat and mouse game continues with cyclists leaving their bikes in yet another illegal area further up the river.


Go to this URL to see 'Bicycle destroy' video in Onomichi
http://www.youtube.com/watch?v=tfI2UxejcBg
A thread about the dangers cyclists present .
http://www.japantoday.com/jp/kuchikomi/356
A humourous account from Mike in Tokyo
http://www.lewrockwell.com/rogers/rogers42.html
My new (2006 September) weblog on urban utility cyclism.
http://utilitycyclism.blogspot.com/